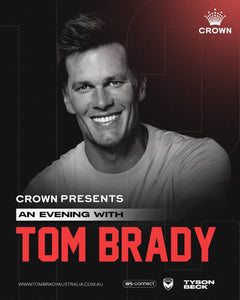 • 1x seat on a VIP table for 'An Evening With Tom Brady'• NFS Event Exclusive Tyson Beck - Tom Brady Limited Edition Trading Card• VIP welcome drinks & canapes• Premium Food & Beverage package over 4 hours• Official event program 
An Evening with Tom Brady
05:30pm, Sat 27th Jan 2024
We invite you to join us for an exclusive opportunity to hear from one of the most iconic sportsmen of all time – 7x Champion, Tom Brady.
Brady has won every accolade the sport has to offer. Known for his exceptional motivational and leadership qualities, he will be sharing insights from his career in sports and business to date.
Off the field, Brady has applied the same principles he developed through his elite sports career to his business career, which has resulted in a number of successful ventures across multiple categories.
Join us and business leaders from around Australia for a once in a lifetime experience with a global icon of sports.


* If you cannot make the event your item(s) will be shipped out to you after the event.**Under 18 guests are welcome with accompanied adult



All sales final. No Refunds Permitted. If event is cancelled, rescheduled or significantly relocated by the Presenter, all liability is limited to the amount for which the ticket was purchased.